Breast Revision
While the goal of every breast augmentation procedure is to provide the patient with her ideal breasts, unpredictable factors can produce a displeasing breast aesthetic or lead to uncomfortable side effects. Women who experience unsatisfactory results or complications following a previous breast augmentation may require breast revision surgery. Dr. Gabriel Chiu performs breast revision at one of his opulent Beverly Hills surgery centers to correct several common issues that may develop after breast augmentation and restore his patients' confidence in their bustline. By customizing every breast revision procedure, Dr. Chiu meticulously addresses his patients' unique cosmetic and anatomical needs, delivering superior results.
Schedule a Consultation
Considering Breast Revision?
Enhance Your Breast Appearance

Because the breasts continue to age and are subject to changes after breast augmentation, they can seem disproportionate or asymmetrical over time. Patients may consider breast revision surgery to improve the aesthetic qualities of their breasts, including their size and shape. Implant placement and type can also be changed to enhance the appearance of the breasts.

Correct Postoperative Complications

Many postoperative complications occur as a result of uncontrollable factors, such as poor healing and breast tissue weakness. Some issues cause unattractive breast deformities, altering the appearance of the breasts. Other more severe problems require immediate medical attention to avoid unhealthy side effects. Breast revision surgery can restore the breasts to a more appealing condition and minimize potential health risks.

Improve Your Confidence

Cosmetic surgery is intended to boost a person's self-esteem and improve their quality of life. When the outcome of any cosmetic procedure does not go as planned, a patient may feel disheartened or self-conscious. Breast revision surgery addresses unsatisfactory features that develop following breast augmentation, revitalizing a woman's confidence and making her proud of her beautiful new breasts.
Breast Revision Recovery
Immediately After

Recovery after breast revision is similar to the recovery from the original breast augmentation. Dr. Chiu will place a breast band and a compression bra over the breasts to minimize postoperative swelling and bruising. Getting plenty of rest is essential during the initial stages of recovery, and any discomfort can be alleviated with prescription pain medication.

1 Week

Most breast revision patients can resume their daily activities and return to work within 7 days of their procedure. However, heavy lifting and strenuous exercise must be avoided.

2 to 3 Weeks

Patients can slowly introduce light physical activity during this time, but they must refrain from engaging in exercises that involve lifting or placing pressure on the chest.

4 to 6 Weeks

All physical activities, including upper body workouts, can be continued.
Patient Testimonials
At Beverly Hills Plastic Surgery Inc., Dr. Chiu can recommend the procedures that will help you achieve the results you want, based on your individual needs.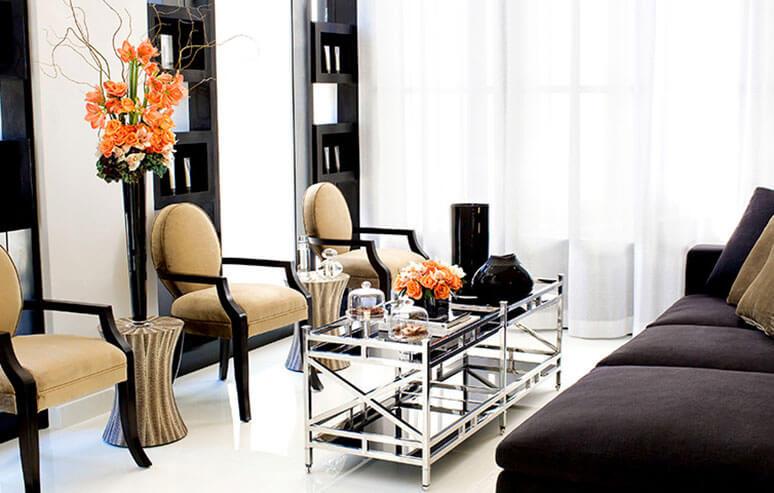 Patricia
I could not be happier about how wonderful my breast implant surgery went! The results are exactly (if not better) than I had hoped for. I was so scared and nervous about the pain, recovery, and how I would look afterwards. I was up and about the very next day without pain. I did not arrive at this decision easily. I struggled with my perception of public judgment and internal conflict. I am also physically active and teach yoga so I wanted a size that made me feel pretty and young yet did not get in the way of my activities. I actually went to see Dr. Chiu twice and also brought my husband with me. Dr. Chiu is patient, a true artist in his work! Together with Dr. Chiu I selected the perfect size that fits my body that looks natural without affecting my activities. I am beyond happy with the results. Dr. Gabriel has wonderful bedside manner, professional, patient, and his office staff is friendly and knowledgeable. I feel sexy, happy, and I am kicking myself for not going through the surgery sooner.
Alex
Dr. Chiu!
I can't believe how much my life has changed coming to see you.  I have been so happy with myself and my self esteem after my surgery 7 months ago.  Best decision for sure!!  Thank you for your wonderful demeanor, amazing staff, and great results!  If you can't tell, I am 100% happier in life thanks to you!
Previous
Next
Why choose Dr. Chiu?

Dr. Chiu possesses remarkable talent and experience with cosmetic breast surgery and takes a unique approach to breast revision with customized sizing. He applies his extensive mastery of breast aesthetics and the female anatomy to develop an entirely bespoke surgical plan that delivers results of utmost excellence. During his flourishing career, Dr. Chiu has performed countless breast enhancement procedures and has trained other plastic surgeons on the most advanced surgical techniques. He is regarded as one of the best plastic surgeons worldwide by industry experts, colleagues, patients, and international media. We invite you to refer to Dr. Chiu's patient testimonials for first-hand accounts of his expertise.
Frequently Asked Questions