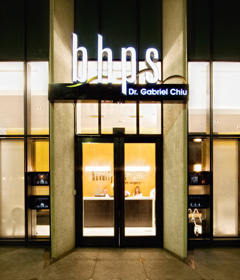 Welcome to Beverly Hills Plastic Surgery, Inc., also known as "BHPS". We are a full-service plastic and cosmetic surgery practice, led by the surgical expertise of renowned plastic and reconstructive surgeon, Dr. Gabriel Chiu. Located in the heart of Beverly Hills, our luxurious spa office is completed with the most modern technologies available and a staff of knowledgeable and personable consultants, nurses, and medical aestheticians.
Our goal is simple: to enhance your beauty utilizing the most natural, minimally-invasive, and painless techniques; to customize your entire treatment to your specific needs; and, to make your life-changing experience at Beverly Hills Plastic Surgery, Inc. a positive, relaxing, and truly exciting one.
Our classic-modern, Chanel-inspired facility is comprised of a retail skincare lounge, private VIP reception, and 4 beautiful consultative exam rooms. Operating on a completely paperless and wireless system, our spa office is equipped with state-of-the-art security, audio, visual, and Bose sound systems for your comfort and enjoyment. Yes, we do offer validated valet parking for medical appointments!

Beverly Hills Plastic Surgery, Inc. and Dr. Gabriel Chiu is honored to be the recipient of the 2008, 2009, and 2010 Patients' Choice Awards. Every month, more than 40,000 patients across the U.S. provide online feedback about their experiences with their doctors. They rate various components such as bedside manner, doctor-patient face time, degree of follow-up, courtesy of office staff, and overall opinions.
Over the course of 2008-2010, these reviews have totaled hundreds of thousands patient opinions. While physicians generally receive positive reviews from their patients, only a select few receive uniformly rave reviews across the board. Of those that receive rave reviews, only a few physicians with near perfect scores have been voted by their patients for this honor. In fact, of the nation's 720,000 active physicians, less than 5% were accorded this honor by their patients in 2008.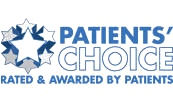 Our Philosophy
At Beverly Hills Plastic Surgery, Inc., we are committed to and stand by the following:
Surgeon expertise and integrity.
Dr. Gabriel Chiu is not only recognized for his impressive credentials and training, but also for his professional integrity, candid recommendations, and sincerity in patient care.
Patient safety first.
We work with a pre-screened, highly-trained and experienced medical staff. Each of our state-of-theart outpatient surgical centers is fully-accredited and upholds the highest standards of care in the industry. We encourage open communication and complete patient education. Our policy is to place patients' safety above all else.
Patient confidentiality.
In addition to our strict adherence to HIPAA regulations, we operate in a paperless office system. Our electronic medical records and data management system allows for an unprecedented level of patient confidentiality. We offer convenient valet parking. Our separate entrances and VIP waiting room provides added privacy for those who require it.
Utilizing the best quality of supplies and instruments.
We do not believe in cutting corners for cost savings. All medical, surgical, and cosmetic products are of the highest-grade in ingredients and performance.
Advanced, proven technologies and techniques.
We provide state-of-the-art aesthetics, medical and surgical equipment for all patients. We stand at the forefront of advances in medical technology, and Dr. Gabriel Chiu is frequently praised for his progressive, yet sound surgical techniques.
Creating unparalleled experiences.
From the personal Surgical Consultant to our Concierge services, a patient's entire experience with us is easy, smooth, and extremely personalized. We provide luxurious transportation and accommodations, assist with childcare, and even prepare patients' favorite refreshments and snacks for subsequent visits. BHPS is widely recognized for our "Carefree/ Pain-Free", Scar Management, and Medical Vacation programs. Plasma televisions, personalize iPod speakers, and patient gift/customized recovery bags make any visit to Beverly Hills Plastic Surgery, Inc. an enjoyable one.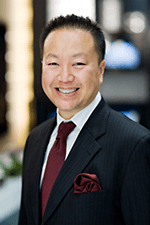 Dr. Gabriel Chiu
Plastic & Reconstructive
Surgeon