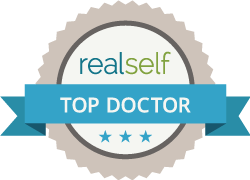 Dr. Gabriel Chiu is a plastic and reconstructive surgeon who specializes in the art of aesthetic plastic surgery. He received his degree in Microbiology and Immunology at the University of California Berkeley and went on to complete medical school at the Western University of Health Sciences in Southern California. After an internship in the Henry Ford Health System at Bi-County Community Hospital, Dr. Chiu began his general surgery residency in the St. John's Health System in Detroit, Michigan. During training, he transferred to Cuyahoga Falls General Hospital in the Cleveland area of Ohio, where he was chosen as Chief Resident in General Surgery.
After completing his residency, Dr. Chiu began a challenging fellowship in plastic and reconstructive surgery at the Philadelphia College of Osteopathic Medicine. His training encompassed all aspects of plastic surgery, including hand, burn, craniofacial, wound care, microvascular, pediatric, reconstructive, trauma, and cosmetic surgeries. Dr. Chiu was selected Chief Fellow of Plastic and Reconstructive Surgery and oversaw the training of plastic surgery fellows, general surgery residents, oromaxillary facial residents, and medical students at Hahnemann University Hospital (Philadelphia, PA), Medical College of Pennsylvania (Philadelphia, PA), Westchester Medical Center (Valhalla, NY), St. Christopher's Hospital for Children (Philadelphia, PA), and St. Mary's Medical Center (Langhorn, PA).
After successfully completing his training in plastic and reconstructive surgery, Dr. Chiu returned to California, where he has been practicing in Encino and Beverly Hills.
Dr. Chiu's effervescent personality and warm demeanor makes him an ideal plastic surgeon for patients of all ages. His passion for and dedication to artistic perfection, as well as his diligent attention to detail is evidenced by unparalleled surgical results and thousands of satisfied patients. Patients frequently praise Dr. Chiu for his candid recommendations and professional integrity (click here to read patient testimonials). Though delivering exception results in all facets of plastic and cosmetic surgery, Dr. Chiu is most well known for flawless body contouring, breast augmentation, and facial procedures. Dr. Gabriel Chiu is certified by the ABPS American Board of Physician Specialties.
Dr. Chiu enjoys spending his free time with wife, Christine, and their American Eskimo dog Kokonut. Dr. Chiu is an avid photographer and has an acute talent for capturing the complexity of nature's beauty. Dr. and Mrs. Chiu are devout Christians and attend the Bel Air Presbyterian Church. They are involved in many philanthropic efforts, with Christine serving on multiple boards.

Physician Testimonials
"His [Dr. Chiu's] clinical acumen and bedside manners are admirable. Dr. Chiu has proven to be an excellent source of information and I frequently find myself adopting his recommendations. Judging by the number of his referrals, his treatment plans more than satisfy his patients' needs.
Dr. Chiu's surgical habits are as meticulous as one would hope for. He organizes a sound surgical plan, but has the flexibility to adjust to any situation that may arise. He is efficient with his time, yet is artistic to his patient's individual needs.
He has always shown himself to be ethically responsible and upstanding. Dr. Chiu cares very much for his patients. I have always known him to look out for his patients' welfare and health above any personal gain. Dr. Chiu exemplifies the spirit of professionalism and care. I am proud to call him a colleague and recommend him to you without reservation."
– Dr. Payman Simoni
---
"I have known Dr. Chiu for more than five years; from 2003-2005 we worked for the same surgical specialty group. During this time, I personally observed his clinical and surgical skills. He is highly respected by our peers and patients for his technical and artistic ability.
Dr. Chiu also has a deep respect for our surgical practice. He often attends meetings, above and beyond what is needed for CME requirements, in order to stay abreast with the latest changes in our profession. Although we no longer work for the same surgical group, I still maintain a robust academic relationship with Dr. Chiu, and often we consult each other for suggestions and advice on different topics involving plastic surgery.
Dr. Chiu has proven himself to be an outstanding and caring surgeon, and I recommend him to you without reservation."
– Dr. Howard Hu
---
"I have known and worked with Dr. Chiu for four years. I have worked with him in the operating room as well as in patient care. I have found him to be of superior knowledge in his field of Plastic Surgery. He is excellent in the operating room where his technique is wonderful and his care of patients superb. Lastly, he is wonderful with his patients, who love him."
– Dr. Richard Hodnett
---
"Dr. Chiu is an excellent surgeon and physician. He is one of the most meticulous surgeons I have ever worked with, and is well-respected by his medical peers, nurses, and operating room personnel who have had the pleasure of working with/for him. His attentiveness, skill, professional integrity, and patient care is commendable and consistent throughout the entire surgery process and I will continue to recommend my patients, friends, and family to Dr. Gabriel Chiu without reservation."
– Dr. Paul Nassif
---
PLASTIC AND RECONSTRUCTIVE SURGERY EXPERIENCE
Beverly Hills Physicians Medical Institute
Bucks County Plastic Surgery Center
St. Mary's Medical Center
Philadelphia Center for Plastic Surgery
St. Christopher's Hospital for Children
Hahnemann University Hospital
Medical College of Pennsylvania
Westchester Medical Center
Plastic and Reconstructive Surgery
Plastic and Reconstructive Surgery
Plastic, Facial Reconstructive, and Hand Surgery
Plastic and Reconstructive Surgery
Pediatric, Trauma, Burn, and Craniofacial Surgery
Plastic and Reconstructive Surgery
Plastic and Reconstructive Surgery
Facial, Reconstructive, Trauma, Burn, and Hand Surgery
CLINICAL EXPERIENCE
CHIEF FELLOW, Plastic and Reconstructive Surgery
Philadelphia College of Osteopathic Medicine. Philadelphia, PA
FELLOW, Plastic and Reconstructive Surgery
Philadelphia College of Osteopathic Medicine. Philadelphia, PA
CHIEF RESIDENT, General Surgery
Cuyahoga Falls General Hospital. Cuyahoga Falls, OH
RESIDENT, General Surgery
Detroit Riverview Hospital – St. John's Health System. Detroit, MI
INTERN, Surgery Internship
Bi-County Community Hospital – Henry Ford Health System. Warren, MI
EDUCATION
Doctor of Osteopathy,
College of Osteopathic Medicine of the Pacific-Western University of Health Sciences. Pomona, CA
Bachelor of Arts,
Microbiology and Immunology, University of California at Berkeley. Berkeley, CA
AWARDS AND HONORS
Recipient, Patient's Choice Award 2008, 2009, 2010, 2011, 2012
Honoree, Commendation by the State of California for Dedicated Service to the Community, Leadership, and Inspiration
Honoree, Western University of Health Sciences for Exemplary Dedication and Commitment to Medicine
Honoree, California State Assembly Certificate for Recognition
Recipient, Center for Disease Control and Prevention Certificate of Appreciation
MEMBERSHIP, ASSOCIATION, BOARD, AND AFFILIATIONS
Member, American Osteopathic Association
Member, Osteopathic Physicians and Surgeons of California
Member, American College of Osteopathic Surgeons
Member, American Association of Physician Specialists
Fellow, American Academy of Cosmetic Surgery
Fellow, California Academy of Cosmetic Surgery
Member, American Medical Association
Member, California Medical Association
Fellow, American Society of Cosmetic Breast Surgery
Board-Certified, American Board of Physician Specialtists
Life Member, Alpha Phi Omega Human Service
Member, American Academy of Anti-Aging Medicine
HOSPITAL & SURGERY CENTER AFFILIATIONS
Beverly Hills Doctors Surgery Center, Beverly Hills, CA
Olympia Medical Center, Los Angeles, CA
Encino-Tarzana Medical, Center Encino, CA
Specialty Surgery Centers, Beverly Hills, CA
Rexford Operating Rooms, Beverly Hills, CA
Roxbury Surgery Center, Beverly Hills, CA
CONFERENCE PARTICIPATION
American Association of Physician Specialists Annual Meeting 2012
ASPS Breast Surgery and Body Contouring Symposium 2013
Multi-Specialty Foundation for Facial Plastic Surgery 2005, 2008, 2010, 2012
American Society of Cosmetic Breast Surgery 2008
The Foundation for Facial Plastic Surgery 2007
Annual Clinical Assembly 2004, 2005, 2007, 2011
OPSC Annual Meeting 2009, 2012
Dallas Rhinoplasty and Facial Cosmetic Symposium 2003
ASPS Annual Meeting 2002, 2013
Cleveland Clinic Pediatric Facial Plastic and Reconstructive Surgery Symposium 2002
Manhattan Ear, Nose, and Throat Facial Plastic and Reconstructive Surgery Symposium 2001
Facial Plastic Symposium 2001
AAFPRS 2011