What is Hydrelle?
Hydrelle is the first FDA-approved hyaluronic acid (HA) filler to contain the anesthetic lidocaine providing you a more comfortable in-office experience with immediate and long-lasting results. Hydrelle is a technologically advanced formulation that is clinically proven to be safe and effective. It delivers the highest concentration of hyaluronic acid, which is found naturally in your body. One syringe can improve the appearance of your wrinkles and can last up to a year.* Hydrelle is an affordable wrinkle treatment option for long-lasting results and potentially fewer facial injections.
What is Hyaluronic Acid?
HA is a form of sugar that is a natural component of healthy and hydrated skin. HA functions like a matrix to hold together collagen and elastin. When injected into the skin, it attracts water and provides volume to smooth and soften the look of wrinkles.
How Does Hydrelle Work?
Hydrelle is a soft, malleable injectable gel designed to reduce facial wrinkles. Hydrelle immediately adds a natural fullness and reduces the unwanted wrinkles that make us look older than we feel.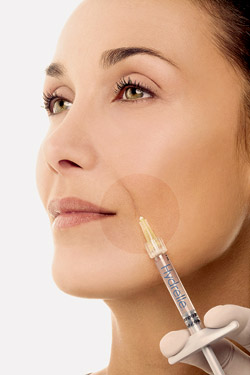 Cost Effective Results You will Love
Because Hydrelle with lidocaine is so concentrated, frequently a single syringe is all you need to treat smile lines. Often 50% less filler material is needed compared to other HA fillers, representing huge cost savings for you. Fewer syringes may be needed to achieve the results you desire.
How Long Does Hydrelle Last?
Unlike other fillers that require multiple syringes and re-treatments, Hydrelle can last up to a year. Talk to Dr. Gabriel Chiu to discuss your specific needs and expectations.
What Should I Expect?
Since everyone's skin is unique, some patients may experience temporary redness, swelling or bruising. These symptoms normally disappear in a few days. No skin-testing is necessary, but Hydrelle is not for patients with sulfite allergies (i.e. red wine, dried fruit, etc.) Hydrelle is FDA-approved for moderate to severe facial lines and wrinkles, such as nasolabial folds.
Are Hydrelle Treatments Expensive?
Pricing is comparable to other HA fillers. However, Hydrelle with lidocaine can be much more affordable, because it's long-lasting and often requires fewer syringes compared to other HA fillers.
Patient Testimonials
Lisa
Dr. Chiu and his staff are the absolute best! My consultation was done thoroughly and he made sure to answer all my questions and let me know that he was there for me if I needed anything else. Every followup appointment, Dr. Chiu and his staff made me feel at home, I'd highly recommend him to anybody who is interested in pursing a cosmetic procedure!
- Lisa
Kelly
I am so happy that I chose Dr. Chui to do my surgery! From the moment I met him, I was at ease. He is very confident and very comfortable to talk to! He really is a perfectionist and I am so pleased with the outcome of my surgery! I can't wait to go back to him after I am done having kids so he can repair my stomach! He is really amazing at what he does!
Kelly
Reyes
My experience with Dr. Chiu was a great one! From the pre-op meetings to the tummy tuck procedure, Dr. Chiu showed great expertise and made me feel comfortable and confident an now he has made me feel great!!!! I truly recommend Dr. Chiu. From a truly grateful patient.
Reyes
To schedule a Consultation
---
or Schedule your
Consultation Online