Breast Implants
When preparing for breast augmentation, women have to make many decisions regarding their procedure. One of the most important decisions involves the implant type and size that will meet their expectations. The process of choosing the perfect breast implants allows patients to have a completely customized breast augmentation procedure that is specific to their unique figure and personal preference.
Dr. Gabriel Chiu works closely with each of his breast augmentation patients to select the optimal breast implants that will result in the most desirable breast appearance. Dr. Chiu will discuss all relevant factors with you, including the emotional, physical, and visual benefits of your individualized procedure. Understanding your breast implant options will ensure that you have the best experience and obtain the most satisfying results.
Schedule a Consultation
Breast Implant Considerations
Natural Enhancement

A natural breast augmentation can be achieved using smaller or anatomically shaped implants. These types of implants can produce an improved breast profile that still appears natural and conservative. Smaller implants that are proportionate to the rest of the body can give the breasts a pleasing boost, and anatomical implants create a more seamless-looking transition to the natural tissue.

Voluptuous Breasts

A prominent breast profile can be accomplished with larger, rounder implants. These types of breast implants typically result in an eye-catching and sensuous breast appearance. The larger the implants are, the more likely the breasts are to look noticeably augmented, and round implants produce more upper pole fullness.

Lifestyle

Before your breast augmentation procedure, you should take into account how your choice in implants will affect your daily routine. Women who lead a physically active lifestyle should note that larger breast implants may make certain activities and exercises more challenging. Patients who wish to have large implants are advised to adjust their exercise preferences to make working out more comfortable. Acquiring sports bras that will accommodate the weight of the implants during higher-impact workouts is also recommended.
Breast Implant Sizing
Because of the size inconsistencies between bra manufacturers, cup sizes vary depending on the brand and style you wear. Breast implant sizing is measured in cubic centimeters (cc's) rather than specific cup sizes. One at-home method of determining which implant volume will give you the breast profile you want is with the rice test, which includes the following steps:

Materials

Obtain a few cups of uncooked rice and a pair of nylon stockings. The stockings will serve as the false implant shell, and the rice will act as the implant filling.

Prepare

Cut a 12-inch portion of each stocking leg and tie a knot on one end of each. Do not use the foot section.

Fill

Fill the stockings with one cup of rice, and tie the ends. You should have two nylon mounds at this point.

Test

Wearing a sports bra, place both nylon mounds where your breasts are. You can try on some tops to see if you are pleased with the size.

Adjust

Try using different amounts of rice to see what size you like best. Once you find the amount that meets your expectations, convert the rice volume to cc's (⅛ cup of rice = 30 cc's) to discover what size implant you need.
Patient Testimonials
At Beverly Hills Plastic Surgery Inc., Dr. Chiu can recommend the procedures that will help you achieve the results you want, based on your individual needs.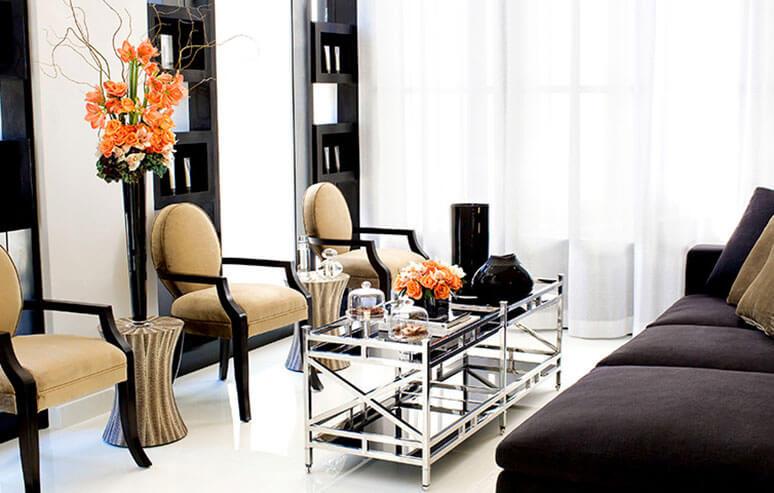 Lisa
Dr. Chiu and his staff are the absolute best! My consultation was done thoroughly and he made sure to answer all my questions and let me know that he was there for me if I needed anything else. Every followup appointment, Dr. Chiu and his staff made me feel at home, I'd highly recommend him to anybody who is interested in pursing a cosmetic procedure!
Patricia
I could not be happier about how wonderful my breast implant surgery went! The results are exactly (if not better) than I had hoped for. I was so scared and nervous about the pain, recovery, and how I would look afterwards. I was up and about the very next day without pain. I did not arrive at this decision easily. I struggled with my perception of public judgment and internal conflict. I am also physically active and teach yoga so I wanted a size that made me feel pretty and young yet did not get in the way of my activities. I actually went to see Dr. Chiu twice and also brought my husband with me. Dr. Chiu is patient, a true artist in his work! Together with Dr. Chiu I selected the perfect size that fits my body that looks natural without affecting my activities. I am beyond happy with the results. Dr. Gabriel has wonderful bedside manner, professional, patient, and his office staff is friendly and knowledgeable. I feel sexy, happy, and I am kicking myself for not going through the surgery sooner.
Previous
Next
Why choose Dr. Chiu?

Dr. Chiu is internationally renowned in the plastic surgery industry for his extensive experience performing cosmetic procedures, unique artistry, and exceptionally refined results. He emphasizes the importance of bespoke implant sizing to deliver optimal breast augmentation results that fulfill his patients' needs and aesthetic goals. He applies his breast enhancement expertise and profound knowledge of the female form to develop intricate, customized surgical plans that are unique to each patient. We implore you to reference Dr. Chiu's patient testimonials for first-hand narratives of their experiences at Beverly Hills Plastic Surgery.
Frequently Asked Questions
What advantages do silicone implants have over saline implants?
The most significant benefit of choosing silicone implants is that they look and feel more like natural breast tissue than saline implants. Silicone implants are the ideal solution for patients with minimal existing breast tissue, and they are less likely to produce rippling.
What advantages do saline implants have over silicone implants?
Saline implants are more affordable than silicone and do not require an MRI in the event of implant failure. Additionally, they are FDA approved for breast augmentation in women ages 18 and older, whereas silicone implants are FDA approved for patients age 22 and older. Saline implants also result in less scarring because they are filled after being inserted through smaller incisions.
Can breast implants improve breast symmetry?
Because of the versatility of both silicone and saline implants, they can address a range of breast concerns. By choosing implants of different sizes, patients can restore a more balanced and symmetrical breast profile.
How do I know which implant type is right for me?
Several factors, including size and shape preference, can affect which implant is right for you. The best way to determine the approach that will satisfy your aesthetic desires is by scheduling a consultation with Dr. Chiu where he will assess your goals and anatomy before developing a personalized surgical plan.
Can I have my implants exchanged if I am dissatisfied with the results of my breast augmentation?
Women who are displeased with the look and feel of their breasts following a previous breast augmentation procedure may choose to undergo breast revision surgery. Breast revision gives patients the opportunity to choose a different implant type and placement as well as to correct postoperative complications from a past surgery.
Are there any warranties available for my implants?
At Beverly Hills Plastic Surgery, we utilize MENTOR® breast implants, which come with a Lifetime Product Replacement Policy. MENTOR® MemoryGel® Breast Implants include a 10-year warranty, which covers replacement and as much as $3,500 of financial assistance for surgical fees. The MENTORPromise Protection Plan offers up to two replacement implants of any size for your lifetime at no charge. Patients can also upgrade to the MENTORPromise Enhanced Protection Plan for $300. This plan includes 10 years of financial assistance (up to $3,500 to cover surgical fees) as well as coverage for implant complications, such as capsular contracture (Baker grade III/IV), late seromas, and double capsule.