How Can Eyelid Surgery Help Me Look Younger?
July 17th, 2019 | Posted in: Eyelid Surgery |
The delicate skin and tissues around the eyes are particularly susceptible to changes as we grow older. Drooping skin, bags, and wrinkles around the eyes all lead to a tired and aged look, even if the rest of the face still looks youthful. 
Eyelid surgery can help correct these issues to restore the natural beauty of your eyes and truly make them pop again, rejuvenating your entire appearance. 
How Does Eyelid Surgery Work?
Also referred to as blepharoplasty, eyelid surgery corrects and tightens skin and tissue along the upper and lower eyelids. 
Eyelid surgery can be used to:
Remove loose or sagging skin on upper eyelids
Reduce or reposition fatty deposits in the eyelids
Decrease puffiness 
Remove bags under the eyes
Tighten drooping lower eyelids
Remove excess skin along the lower eyelid
Decrease "crow's feet" and fine wrinkles around the eyes
Remove drooping or hooded eyelid skin that impairs vision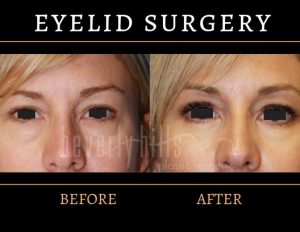 What Incisions Are Used for Eyelid Surgery? 
Eyelid surgery is typically performed using small incisions, with Dr. Chiu taking care to keep incisions well-hidden along eyelid creases or even inside the eyelids to avoid obvious scarring. 
The upper eyelid method uses an incision within the natural creases of the upper eyelids that may extend slightly beyond the outer corners of the eyes. 
The lower eyelid technique uses incisions created below the lower lash lines. Sometimes, incisions may be needed inside the lower eyelid to remove extra fat or reposition the tissues better.
One or both techniques may be used during surgery depending on each patient's unique eye structure and concerns. 
How Is Eyelid Surgery Performed? 
Once the incisions are made, excess skin is removed, and fat deposits are redistributed or removed to restore a youthful appearance.
What Is Recovery Like After Eyelid Surgery? 
Recovery typically takes a few weeks, with the majority of bruising and swelling resolving within the first week. Keep your head elevated as much as possible during the entire recovery period. Results last several years. 
How Does Eyelid Surgery Enhance My Face?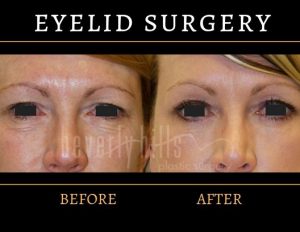 Think of the last time you had a sleepless night—and the dark circles and bags that came right after. The delicate, thin skin around the eyes means signs of aging, like drooping skin or wrinkles, happen faster and are more obvious than in other areas. 
Eyes gradually begin to look dull and fatigued, which greatly ages the rest of the face as well. Even with otherwise radiant skin and sculpted facial contours, tired-looking eyes are all it takes to make people look several years older.  
Instead of looking like you've had too many sleepless nights, eyelid surgery removes what keeps eyes looking aged and tired. Eyelid surgery can also be combined with procedures such as facelift surgery, brow/forehead lift surgery, or injectables like BOTOX® Cosmetic, JUVÉDERM®, RADIESSE®, or Restylane® for the best results. 
Would you like to learn more about eyelid surgery? Schedule a consultation with Dr. Chiu by calling our office at (310) 586-3449 to learn more about what eyelid surgery can do for you.