Your Certified Medical Aesthetician will first conduct a skin analysis and customize a treatment to address your individual skin care needs. The customization will involve the proper combination of ingredients for cleansing, exfoliating, extraction, peel, and/or treatment mask. The result: hydrated, corrected, and glowing skin.
Ultimate Rejuvenation Facial
This is a powerful facial treatment that enhances and refines your skin texture by deep, yet gentle exfoliation.  It increases collagen production, circulation and plumps your skin with ultrasonic micro massage.  Fine lines are minimized with targeted mechanical energy for superior results.  Pigmentation and sun damage issues are addressed and lifted.  This advanced facial helps tone, rejuvenate, and revitalize your epidermis.  Skin is left looking younger and brighter.
75 min / $175
Rejuvenative FaceLift Facial
With use of customized diamond-tip microdermabrasion, low-level micro-current, anti-oxidant mask and a texturizing peel, this non-invasive and painless anti-aging procedure lifts, tones, and revitalizes the skin. The result is firmer, tighter, and smoother skin. With noticeable improvements in skin tone, texture, and elasticity, it's the best FaceLift you can achieve without seeing Dr. Chiu!
75 min / $180
Dermal Quench Facial
This unique treatment improves skin elasticity by strengthening the collagen and elastin fibers in the skin. Oxygen mist in its purest form is used to deliver 87 different vitamins, minerals, enzymes and amino acids to the skin, providing moisture to and revitalization of every cell.  This luxurious treatment fights premature aging, balances sensitive skin and promotes new cell turnover to reveal beautiful skin.  Our oxygen facial treatment is the ideal solution for post travel and post surgery conditions or anytime your skin suffers from tiredness, tightness, and dehydration.
60 min / $125
Cryo Stem Therapy Facial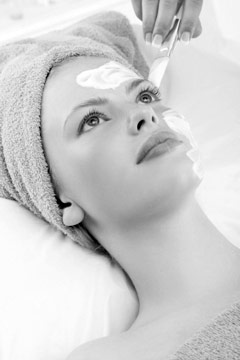 The future of skincare has arrived! This revolutionary breakthrough in anti-aging skincare involves the topical application of a unique cryogenic and bioactive skin stem cell serum. Communication of biologically flawless information is introduced to aged and damaged skin so that the existing skin will replicate the condition of the applied new cells. This results in not only skin that appears, but essentially becomes younger and firmer. The treatment also controls acneic conditions and diminishes enlarged pores. This unique therapeutic treatment complements all surgical, non-surgical and aesthetic cosmetic procedures. How does it work? The secret is in the Cryo Stem serums. Each ampoule of serum contains all the constituents naturally found in skin and live DNA that has been carefully cultured with vitamins, minerals, and enzymes, moisturizing agents and collagen and elastin builders specific to human skin. These natural building blocks act as food for the skin, allowing your individual skin to grab what it needs most and utilize it to repair damage and to reproduce healthier skin on the cellular level.
Cryo Stem Hydra Facial: Deep hydration emphasis for a youthful, radiant glow. Instantly reduces the appearance of fine lines and wrinkles.
90 min / $250
Cryo Stem Firming Facial: Provides immediate toning, firming, and lifting effects.
90 min / $250
SkinCeuticals Customized Facial
Your Certified Medical Aesthetician will conduct a skin analysis and customize a treatment to address your individual skin care needs. The result: hydrated, corrected, younger, and glowing skin. The customization will involve the proper combination of medical-grade ingredients for cleansing, exfoliating, extraction, peel, and/or treatment mask.
60-90 min / $130-$160
Acne Facial
This intensive and corrective treatment helps clear inflamed, blemished skin with an ultrasonic acruator that kills surface bacteria, reduces blackheads and skin clogging impurities. A combination of medical-grade exfoliation, extractions, high-frequency techniques, and oxygen is used to eliminate problematic skin. Recommendation and prescription of at-home maintenance will be provided.
60 min / $130
Crystal-Free Diamond Tip Microdermabrasion
Microdermabrasion is an effective treatment to improve the appearance of fine lines and wrinkles, brown spots, scars, and acne blemishes. The latest technology utilizes natural diamond chips plated to a stainless steel surgical wand that effectively polishes away dead skin layers to expose healthier skin and promote new growth. Microdermabrasion is non-invasive, virtually painless, no recovery time, no chemicals or lasers. Our microdermabrasion package includes an oxygen facial which will help speed up collagen production and soothe the newly exfoliated skin. The regeneration of new collagen improves resistance to the effects of aging.
60 min / $150 (Series of 3 for $360 prepaid)
Add on treatments:
Oxygen Eye Treatment $30
Decollete or hand treatment $30
Hydrating Stem Cell ampoule $100
Firming Stem Cell ampoule $100
Collagen Mask with Galvanic Infusion: $50