Juvederm: Is it Right for You?
October 6th, 2016 | Posted in: Juvederm Treatments |
Are you looking for a way to refresh your appearance? Are you tired of having facial wrinkles or thin lips? Then, Juvederm might be the facial filler you're looking for.
Here's a quick look at Juvederm and how it can help you refresh your look.
What is Juvederm?
Juvederm is an injectable hyaluronic acid dermal filler that can be used to help correct moderate to severe facial wrinkles and folds. Compared to some hyaluronic gel products that have a granular consistency, Juvederm is of a smooth consistency, which is achieved using the Hylacross technology to allow for a smoother, malleable gel.
Hyaluronic acid is a naturally occurring sugar found in the body that works by holding water at the injection site and acting as a cushioning agent. It adds temporary volume and a smoother appearance to skin. Most patients only need one treatment to achieve optimal results.
The Juvederm Treatment Process
There is minimal discomfort when it comes to Juvederm treatment,and the results are longer lasting, with the average patient enjoying a healthier, more youthful facial appearance for up to a year.
Before your treatment, it's strongly advised that you:
Stop taking anti-inflammatory medications or aspirin one to three days before
Not wear makeup to your appointment
Talk to Dr. Chiu about whether or not you're a suitable candidate
During your treatment, the area of your face being treated will be numbed with a topical anesthetic cream before Juvederm is injected. Since the filler has a smooth gel consistency, injections cause very little discomfort. Its smooth consistency also allows for the use of thinner needles and less pressure during treatment. A typical treatment takes between 15 to 30 minutes.
After your treatment, it's advised that you observe the following:
Don't touch or massage the treated area for a few days
Avoid unnecessary exposure to heat, cold, and sun for up to two weeks
Wear sunscreen on the treated areas when out and about
Avoid using any products that contain alcohol on the face
Don't wear makeup for the first 12 hours after treatment
Are You a Good Candidate?
A good candidate for Juvederm fillers is someone who would like to improve the appearance of facial lines or augment the lips. It can be used on any area of the face, including lines and creases around the mouth, nose, and forehead. The procedure can be used for facial contouring, as well as to improve the appearance of scars, such as those caused by acne. It can also be used to enhance the size and shape of the lips.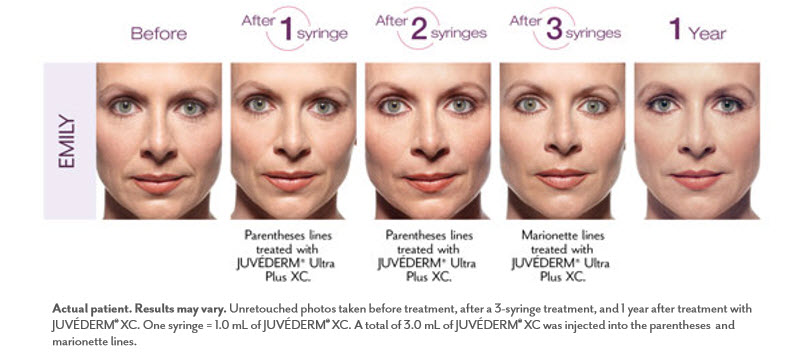 You might not be a good candidate if:
You are pregnant or nursing
You have severe scarring
You have thinner/looser skin
If you're considering Juvederm treatment and any of the above three points apply to you, be sure to enquire further with Dr. Gabriel Chiu. Just because the above factors may affect your eligibility to receive Juvederm, it can differ from person to person. In addition to this, there may be alternate treatments available to you.
Juvederm Products
Juvederm comes in a number of formulas of varying strengths, so treatments can be tailored to the specific needs of each patient. Products, as noted on the official site, include:
Voluma XC injectable gel is used for deep injections in the cheeks, which help add volume to and lift the cheeks to counteract signs of aging that often occur around those areas.
Ultra Plus XC injectable gels are injected into the mid-to-deep dermis. These gels help correct and reduce the prominence of moderate to severe facial wrinkles.
Ultra XC injectable gel is injected into the lips and perioral area for lip augmentation.

Book an Appointment
Before you decide to book a treatment, you should consult with Dr. Gabriel Chiu of Beverly Hills Plastic Surgery, Inc. With years of experience in his field, he'll be able to answer any questions or concerns that you might have about Juvederm and the treatment process.