Dr. Gabriel Chiu Patient Reviews
All reviews are from real patients of Dr. Gabriel Chiu at Beverly Hills Plastic Surgery Inc. On behalf of Dr. Gabriel Chiu and staff at BHPS Inc, we would like to thank you for taking the time to leave us your testimonial and review. Your feedback of your experience with Dr. Gabriel Chiu and/or with the team at BHPS, Inc. is very important to us. Such comments and testimonials help us to improve upon and continue to provide the excellent service and care each patient deserves.
If you are looking for an experienced plastic surgeon in Beverly Hills, read Dr. Gabriel Chiu reviews and testimonials to help you decide whether Dr. Chiu is the best plastic and cosmetic surgeon for you. We trust that you will be impressed!
---

2697
Anonymous client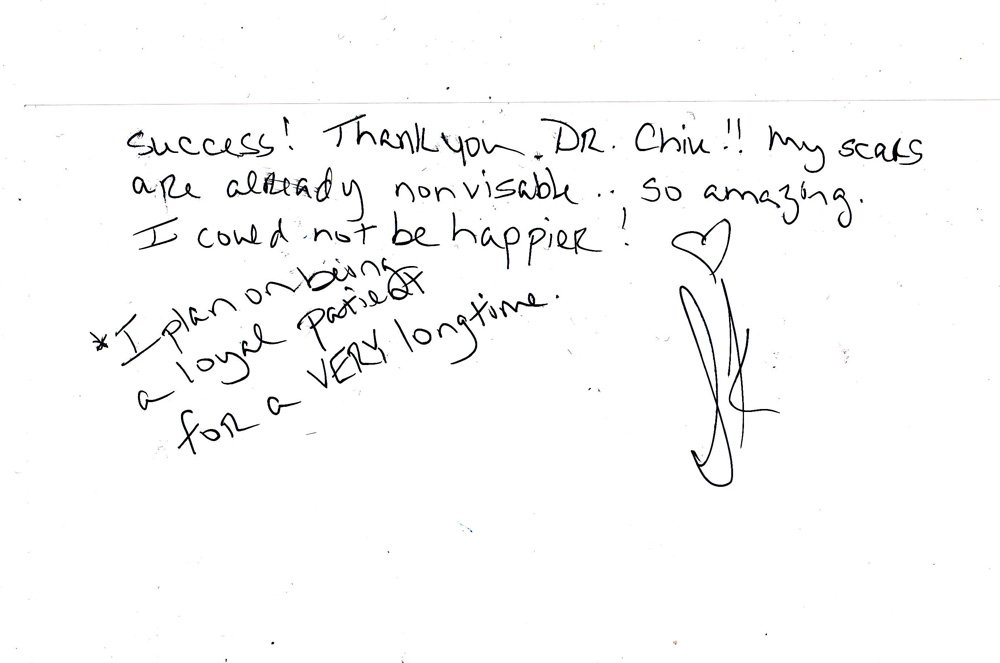 Success! Thank you, Dr. Chiu! My scars are already nonvisable.. so amazing. I could not be happier! *I plan on being a loyal patient for a VERY long time.
---
2622
Lisa
Dr. Chiu and his staff are the absolute best! My consultation was done thoroughly and he made sure to answer all my questions and let me know that he was there for me if I needed anything else. Every followup appointment, Dr. Chiu and his staff made me feel at home, I'd highly recommend him to anybody who is interested in pursing a cosmetic procedure!
– Lisa
---
2620
Patricia
I could not be happier about how wonderful my breast implant surgery went! The results are exactly (if not better) than I had hoped for. I was so scared and nervous about the pain, recovery, and how I would look afterwards. I was up and about the very next day without pain. I did not arrive at this decision easily. I struggled with my perception of public judgment and internal conflict. I am also physically active and teach yoga so I wanted a size that made me feel pretty and young yet did not get in the way of my activities. I actually went to see Dr. Chiu twice and also brought my husband with me. Dr. Chiu is patient, a true artist in his work! Together with Dr. Chiu I selected the perfect size that fits my body that looks natural without affecting my activities. I am beyond happy with the results. Dr. Gabriel has wonderful bedside manner, professional, patient, and his office staff is friendly and knowledgeable. I feel sexy, happy, and I am kicking myself for not going through the surgery sooner.
– Patricia Grube
---