Summer Skin Care Tips and Secrets
August 21st, 2017 | Posted in: Skincare | Tags: summer skin care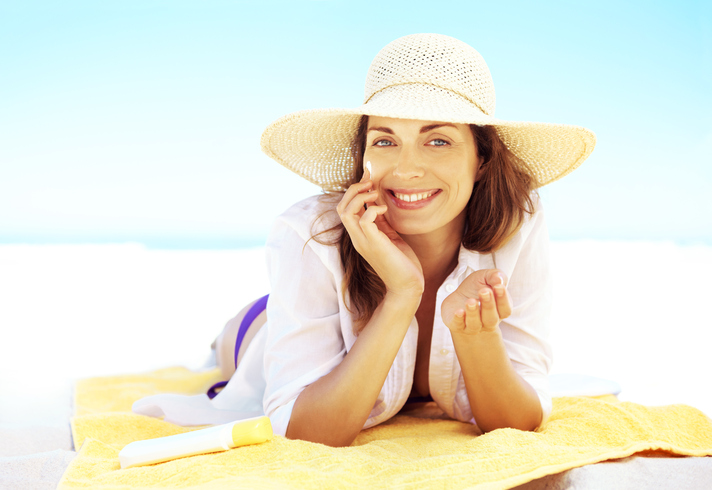 As much as we love the summer season, it's important not to forget that with all that surf, sand, and sun comes a variety of issues that will likely take a toll on the skin. Think scorching heat, dirty air pollution, and tons of harsh humidity that can leave skin parched, burned, and often times irritated or even infected.
To avoid such hassles and to help keep that skin radiating brightly, make sure to follow these summer skin care tips to help you get that glow on.
Exfoliate Exfoliate Exfoliate
For clearer, smoother skin, the ground rule is to exfoliate to the max as the body continues to shed skin cells at an amazing rate every minute of every day. For those that do not get rid of the dead dirty cells, the skin will look dry and dull instead of vibrant. Not only does exfoliation remove dulling skin debris, it also prevents congestion and improves hydration from supporting toners and moisturizers.
Go ahead and grab some scrubs immediately. Remember to gently rub the exfoliator in circular movements and to continue for at least 2-3 times a week for beautiful skin year-round. Be sure to follow up with a hydrating cream to seal in moisture and to always shield freshly exfoliated skin with an SPF, as recommended by the FDA.
Sunscreen it Up
Speaking of SPF, when in doubt, always just reapply! Even a teaspoon amount for the face will provide ample protection to protect from the sun's dangerous rays.
Remember to do so every few hours though and to try to stay out of the midday sun from mid-morning to late afternoon whenever possible. Today's most sophisticated sunscreen formulas allow people to find a sun protection that works specifically for their personal skin conditions. This means that there's options out there from oil-free and mattifying formulas to extra emollient formulas for dry skin, or chemical free formulas for more sensitive skin types.
Be Bare or go for Minimal Make-Up
During this popular season of UV rays, harsh heat, bad air, and tons of unwanted sweat, less make-up is definitely best. Plus, natural looks always look best if and when under the intolerant sun.
Those still wanting to apply foundation should choose to apply face powder with SPF to avoid patchy skin. Lips can be protected by a gloss or a lip balm with an SPF 15 to make lips look fresher. Eye makeup for the most part should essentially be avoided if possible.
Always Hydrate
As with exfoliation, hydration is also key. Make water your new BFF by drinking least eight glasses a day and by carrying a water bottle at all times to help keep you feeling fresh, to wash out unwanted toxins, and to avoid the onset of dehydration, which has effects on the skin. Allow skin to be moist and thirst free by making sure to hydrate with plain and pure H2O.
Also remember to find a light summery lotion that you will never forget to put on to further hydrate the skin. The daily skincare regimen's normal level of hydration can also be upped with intensive masques, which are perfect for use one to two times a week to further boost moisture. Boosters are also a great fit and work best underneath a moisturizer, along with toners to help even out skin porosity. Make sure to refresh throughout the day with revitalizing toner spritzes that can be used at home, at the gym, in the car, at the desk, or even on a flight!
Repair and Sooth the Overexposed
If and when the damage is already done, immediately jump to operation repair ASAP. Sure, you may have forgotten the sunscreen, didn't apply enough, or got caught in a sunny spell, but there is definitely still hope for saving the skin from further damage—not to mention pain!
Super-soothing botanicals and cooling gels often help prevent peeling all while reducing redness and inflammation. For cooling balms, apply generously across over-exposed skin, preferably at the first sight of a pink glow.
To prevent further complications from a blistering sunburn such as melanoma, remember also to receive yearly skin exams with a physician or to perform self-examinations once a month to detect early warning signs of carcinomas or malignant melanoma. Be on the lookout for new growths or any substantial skin changes all the time as well.
Trust the Professionals
Forget sun-parched skin or other summer beauty woes. Get your glow on and breeze through the beach season beautifully with a variety of skin procedures we offer. Dr. Gabriel Chiu is a renowned plastic and reconstructive surgeon whose utmost goal is to help his patients achieve their personal aesthetic goals in a caring and relaxing environment. After following these health summer skin care tips, fun in the sun awaits!