The Difference Between CoolSculpting™ and Liposuction
March 22nd, 2018 | Posted in: CoolSculpting, Liposuction | Tags: coolsculpting, lipo, liposuction, sculpting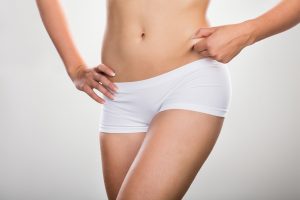 CoolSculpting™ or liposuction in Beverly Hills – which is better? The answer is… both! Liposuction is the most popular cosmetic procedure in America, BUT CoolSculpting™ is ranked #1 in medical device growth. Obviously, both treatments are very desirable to many people. But what is the difference, really?
Advantages and Disadvantages of Liposuction
Advantages:
• More aggressive and complete fat reduction
• Better contouring
• More immediate results
• The possibility of combining heat-energy skin tightening technologies
• The possibility of simultaneous surgical procedures
Disadvantages:
• The downtime of a few days with some activity restrictions for 3 to 6 weeks
• The potential for surface irregularities
Advantages and Disadvantages of CoolSculpting™
Advantages:
• Noninvasive technology
• Minimal down time
• Fewer risks (though not risk-free)
• Treatment at a lower price, depending on the amount done
Disadvantages:
• Less dramatic results compared with liposuction
• Potential surface irregularities
• Treatable body part areas are limited by fit of application head
CoolSculpting™ Background
CoolSculpting™ is a noninvasive fat-reduction technology developed by ZELTIQ Aesthetics, Inc. The company received FDA approval for its "cryolypolysis" (fat freezing) treatments in 2010. Since then, the treatments have become so popular that Delotte named ZELTIQ the #1 fastest growing medical device company!
The concept came from the minds of two Harvard dermatologists, who were inspired by a report about teething toddlers who developed dimples after sucking on popsicles. After some investigation, the doctor's research confirmed that "selective freezing of adipose (fat) cells reduced fatty bulges by 20 to 25%." Those findings lead to the invention of CoolSculpting™.
Liposuction Background
Liposuction was first introduced in France in the 1920s, but it wasn't until the 1980s that the procedure took off. People were excited that finally a surgeon could remove fat without a knife by using only a small metal tube, called a cannula, to suck the fat out.
Liposuction Procedure
Liposuction is based on the principle of negative pressure. It's the same as sucking a smoothie through a straw. Liposuction requires general anesthesia. In addition, your surgeon might use a local anesthetic on your belly area. Small incisions are made around the treatment area, and a thin tube-like instrument called a cannula will be inserted into the incisions and moved around to break up fat deposits. Then, a medical vacuum is used to suction out dislodged fat cells. One thing to note is that it may take multiple sessions to achieve your desired result. To learn more about liposuction in Beverly Hills, consult with Dr. Chiu today.
CoolSculpting™ Procedure
Your practitioner will first make marks on the treatment area for precise placement of the device. A transparent gel pad is placed to protect the skin and an applicator head is put into position. A vacuum is turned on, sucking the bulge into a cup. Meanwhile, two cooling panels numb the area.
This controlled cooling mechanism freezes the fat cells without harming the skin, muscle, or nerves. The vacuum portion of the procedure lasts an hour. After that, the practitioner removes the application cup and massages the frozen mound to break up the fat cells even more.
Things to Be Aware of With Both Liposuction and CoolSculpting™
Neither procedure is a substitute for weight loss, nor do they protect against weight gain. If you consume excess calories, the fat cells will expand again.
Neither procedure addresses loose skin, and a deflated bulge can wind up hanging. If you have excess skin on any area of your body that you wish to treat, consult with a plastic surgeon to see what other type of treatment may be best for you.
Coolsculpting™ and Liposuction in Beverly Hills
Dr. Chiu at Beverly Hills Plastic Surgery is the preferred plastic surgeon of Hollywood celebrities because of his VIP service, strict confidentiality, and surgical precision. He and his staff make sure to "roll out the red carpet" for every patient. Call (310)586-3449 or Request a consultation online today!