Tone Up for the New Year With Emsculpt®!
December 2nd, 2021 | Posted in: Body Contouring, Body Sculpting, Emsculpt |
3 Minute Read: 
2022 is almost here. It's time for you to get serious about those New Year resolutions. Upping your fitness levels is one of the most common resolutions. This is because we're constantly struggling to become the best version of ourselves. 
Get ahead of the pack and start 2022 with a toned body using these easy tips.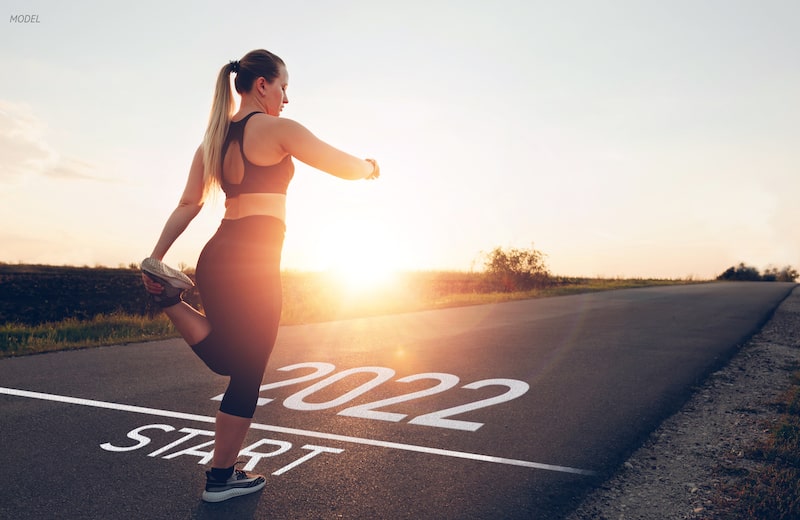 1. Set Your Objectives
The main goal is to improve your fitness. But this goal isn't specific enough. If you set off with a vague goal, you might lose focus. Instead of picking a few specific activities, you'll end up following many different diets, trying lots of special teas, and working on too many fitness routines. In the end, you may find yourself burned out.
Setting a few specific goals will clear your mind and narrow your options. You'll have more focus and stick to your new plans for longer.
Start with the parts of your body that you want to change the most. If you can arrange them from highest to lowest priority, that may be even better. 
A few common areas people choose to tone include their arms, thighs, and midsections. Pick your most pressing areas and focus on those for the best results.
2. Figure Out the Look You're Going For
The best way to stay motivated is to look up some inspiration. Whenever you're looking up body goals, make sure that they're realistic so that you can go into the process with a healthy mindset. Try looking up some before and after pictures for a toning journey and find an ideal goal. Then, consult a professional so that you can be introduced to the world of possibilities for you and your body.
3. (Em)Sculpt Away!
Many workouts can help with keeping fit but fail to get rid of that stubborn layer of fat. If your goal is to get a great toned effect with reduced fat and greater muscle definition, Emsculpt® can help you target those areas that just won't cooperate.
The process uses one procedure to burn your excess fat and tone your muscles at the same time. Better yet, it's non-invasive and can be done in the office setting.
The Emsculpt® tool uses high-intensity electromagnetic frequencies to target the areas you want to tone and burn the excess fat there. At the same time, it exposes your muscles to stress that will increase their growth and volume. You may see results in as little as three to four weeks.
Emsculpt® Is Not Just for Women
Remember to sign up, boys. According to the American Society for Plastic Surgeons, Emsculpt® is one of the most popular procedures that can be customized for men. It is especially beneficial if you've noticed your metabolism slowing with age and stubborn fat has made its appearance.
Interested in Learning More?
Learn more about how you can get your dream body this New Year's season by contacting a board-certified professional with extensive experience in Emsculpt®. Call Dr. Chiu at Beverly Hills Plastic Surgery at (310) 888-8087 or fill out our online contact form. 
You can also visit our plastic surgery before and after photo gallery to see how Dr. Chiu has helped his previous patients.