The Top Celebrity Plastic Surgery Procedures
September 7th, 2016 | Posted in: Body Contouring, Botox Treatments, Celebrity Plastic Surgery, Juvederm Treatments |
Celebrities are regarded as experts when it comes to beauty trends and looking their best. For people who are self-conscious about their bodies, knowing that their favorite actress or actor has undergone plastic surgery gives them a boldness to pursue their "new body" dreams. If a mega-star like Jennifer Aniston feels comfortable receiving a procedure, then so can you!
Here are the top celebrity plastic surgery procedures that both male and female celebrities are known for:
Botox
A smooth, youthful face is a necessary element to every star's success in Hollywood. Lots of celebrities start using Botox in their 20s to keep wrinkles and fine lines from forming. For those who do not start early, laugh lines, crow's feet and wrinkles can be eliminated by injecting the Botox into problem areas. The ingredients used in Botox freezes the muscles, keeping them from moving and making more creases. Material girl, Madonna, is still rocking her youthful appearance thanks to Botox. So are Forrest Gump star Robin Wright, Baywatch's David Hasselhoff, and American Idol creator Simon Cowell.
As you can see from the real-life before (left) and after photos (right) of Botox, the patient's forehead wrinkles and crow's feet are far softer/minimized.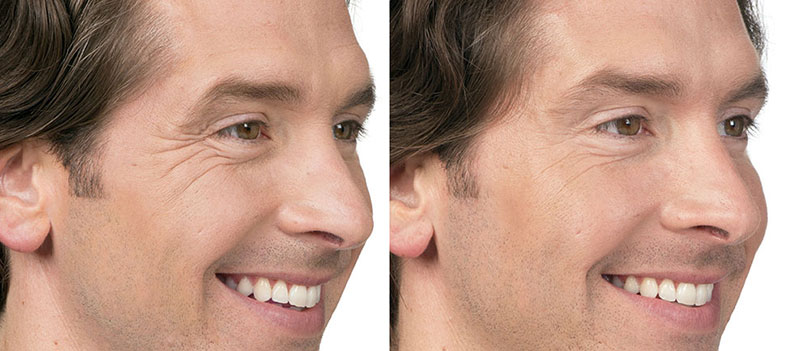 Facelift
When the skin becomes too lax and Botox is no longer effective at hiding deep wrinkles, a facelift is the next step. A facelift gives an overall rejuvenation by tightening sagging skin, reducing deep creases, and removing excess skin and fat under the chin. A facelift does not change your facial features and it cannot stop aging, but it will turn back the hands of time. Celebs like Kris Jenner and Sharon Osbourne have been able to effectively conceal their true ages by having facelifts.
Breast Augmentation
Many actresses choose to have breast implants to boost their self-esteem. Knowing that their bodies will be subjected to scrutiny on the big screen and in magazines can be stressful. Adding some fullness and lift to small breasts can make a huge difference in how women feel about themselves, giving them confidence, which correlates to how they carry themselves. Some celebs, like singer Dolly Parton, choose a more noticeable implant while others, such as Kaley Cuoco and Miley Cyrus, keep it more on the down low.
Rhinoplasty
Rhinoplasty, more commonly known as a "nose job," is a surgery that can be both aesthetically and medically beneficial. Celebrities like Jennifer Aniston have used the procedure to correct a deviated septum while Glee star Dianna Agron regained symmetry after she had broken her nose, twice. Other celebs like Ashlee Simpson, NeNe Leakes, and Cher have undergone rhinoplasty to create facial evenness and balance.
Upper and Lower Blepharoplasty
It is extremely important for celebs to look their best in all situations. You never know when a photographer is going to snap a "no-makeup" photo. The first thing people notice are the eyes. Drooping lids, dark circles and under eye bags lead to captions about partying too much and drug abuse. An upper and lower eyelid lift repositions fat deposits, tightens skin and smooths out creases. While a breast augmentation may be the most noticeable procedure, an eyelid lift may be an even more popular option for celebrities, both men and women. There have been many celebrities that are suspected to have had eyelid lifts, but a girl (or guy) has to keep the mystery.
Lip Augmentation
Luscious lips have always been in style, and celebs like Kylie Jenner, Lisa Rinna, and Teen Mom star Farrah Abraham have embraced the look. Lip augmentation involves an injection of  hyaluronic acid filler in the lips themselves and the area around the mouth. The filler adds volume, which changes the shape and structure of the lips, giving them a perpetual pucker. The most common lip augmentation products are Restylane, Restylane-L, Restylane Silk, Juvederm Ultra and Juvederm Ultra Plus.
Below are the before and after photos of a patient in her 20s who received Juvederm. The results speak for themselves.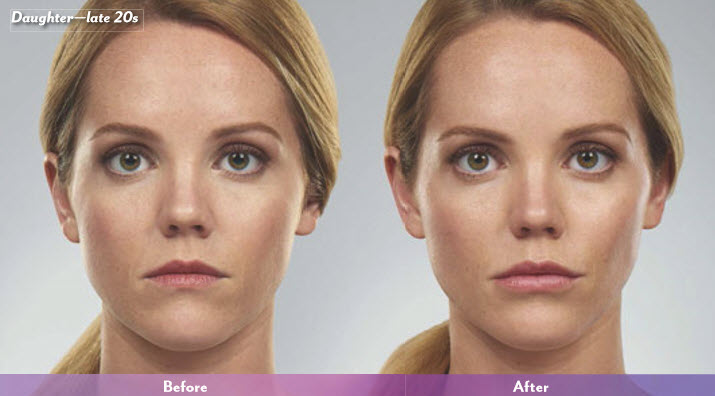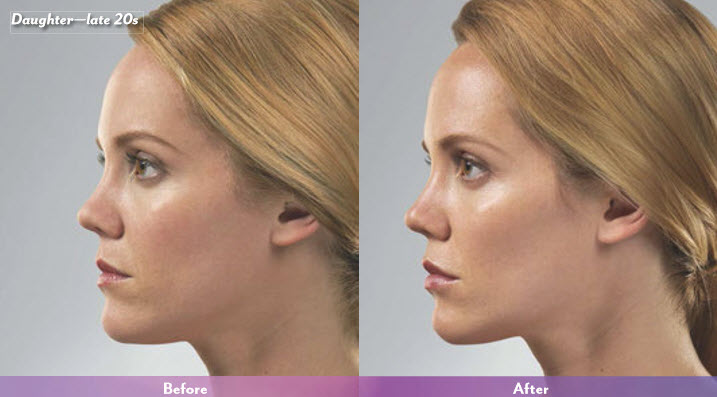 Dermal Fillers
Dermal fillers are used for more than just lip augmentation. They are mostly used as an alternative to Botox to rid the face of unsightly facial creases and wrinkles, to enhance shallow contours, and to improve the appearance of recessed scars. Fillers can be used to add volume to the cheeks, jawlines and temples to give the face a plump and youthful appearance. Dermal fillers are temporary and have to be redone about every four months and the procedure lasts for 30 minutes. Madonna and Christie Brinkley have beautiful, plump cheeks that keep them from looking their age.
Neck Lift
Second to the face, a sagging neck reveals the signs of aging before most other body parts. Loose skin and excess fat around the neck gives the appearance of an unsightly "turkey neck." A lift will smooth and stretch the skin so your neck is elegant and graceful. Neck lifts are usually performed in combination with other facial procedures to give an overall renewal to the face, neck, and the surrounding skin. Kris Jenner added a neck lift to her facelift to not only make her look younger, but also slimmer, making her appear as if she had lost weight in addition to her facelift.
Body Contouring
There are many procedures that fall under body contouring. The most popular are abdominoplasty, also known as a tummy tuck; liposuction; thigh lift; and arm lift. These procedures smooth out the bumps and lumps that make clothes ill-fitting and keep many people from donning a bikini.
Many celebrities who have children find out that after pregnancy, they cannot get back their slender bodies, no matter how much they diet and exercise. Body contouring surgery can smooth out the stomach, repair stretched muscles, and remove stubborn excess fat around the love handles. Mom celebrities Patricia Heaton and Sharon Osbourne have both regained their pre-pregnancy bodies with body contouring surgery.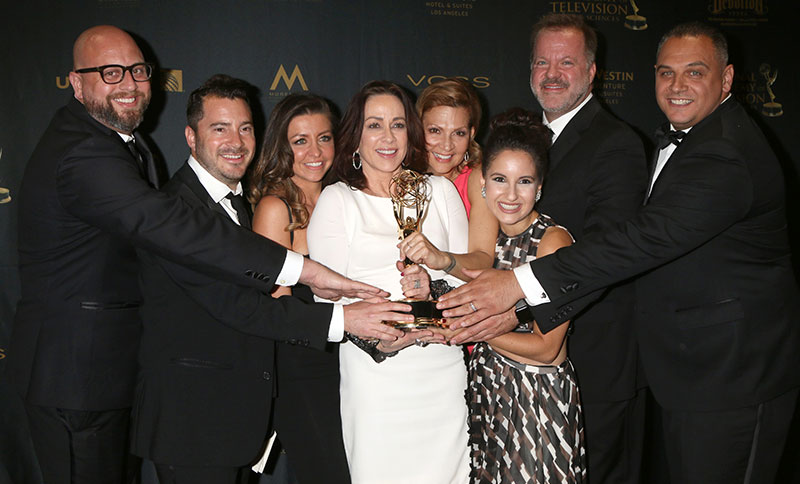 Butt Augmentation
Lots of celebrities love the hour glass figure made popular by actresses like Marilynn Monroe. This requires substantial breasts and a booty to go along with them. Buttock augmentation can be done using implants or a Brazilian Butt Lift, which involves liposuction to contour the surrounding areas and fat transfer to the buttocks for enhancement and shape. This creates a lifted, round and firm butt that looks amazing in red carpet dresses or everyday jeans. Heidi Montag is one celeb who is proud of her enhanced bottom.
Top Celebrity Plastic Surgeon, Dr. Gabriel Chiu
Dr. Chiu is a renowned plastic surgeon in Beverly Hills, California. He offers his patients exceptional care and a positive environment, ensuring that every patient has an incredible experience while in his office. He offers luxurious accommodations including posh exam chairs with personal iPod speakers and deluxe plasma televisions in each exam room. Dr. Chiu and his staff also provide superb customer service in a highly protective environment where strict patient confidentiality is ensured. Dr. Chiu and the staff at Beverly Hills Plastic Surgery, Inc. want to help you achieve your dreams of a new and beautiful you!
He specializes in many top celebrity procedures including upper and lower blepharoplasty, breast augmentation, facelift, and body contouring procedures. The Spa at BHPS, Inc. also offers Botox injections and dermal fillers, including Juvederm, Radiesse, and Restylane. Dr. Chiu is known for his advanced techniques that leave his patients looking natural, without a hint of fakeness that often is seen with plastic surgery. If you would like to schedule a consultation with top Los Angeles plastic surgeon Dr. Chiu, please contact our office today for an appointment.