What's the Difference Between Eyelid Surgery and Asian Eyelid Surgery?
September 3rd, 2021 | Posted in: Eyelid Surgery |
3 Minute Read: 
When most people think about eyelid surgery, they consider it a procedure to address age-related laxity, bags, and hooding on the upper and lower eyelids. While that is still a primary reason for eyelid surgery (blepharoplasty), it is far from the only reason.
Asian eyelid surgery is a variation of eyelid surgery that has little to do with the signs of aging. Instead, it is performed to help those of Asian descent achieve a double eyelid crease. 
So, what else differentiates traditional blepharoplasty from Asian eyelid surgery?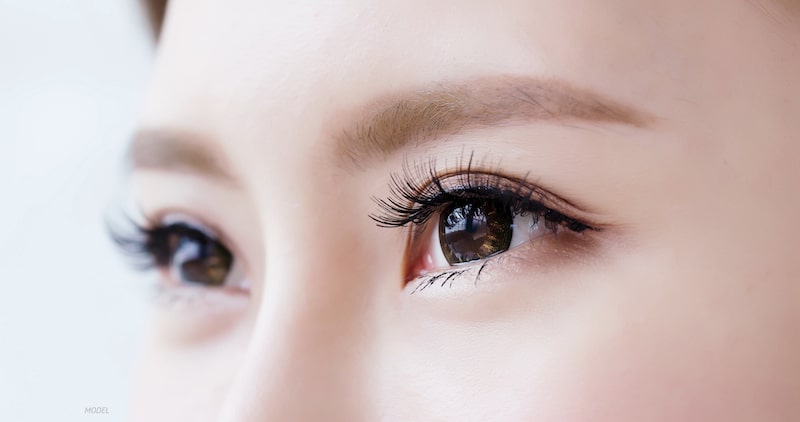 What Is Traditional Eyelid Surgery (Blepharoplasty)?
Skin can become loose and sag as we age because our bodies produce less collagen. These changes tend to be very obvious in and around the eyelids and include hooded upper eyelids and puffy bags beneath the eyes.
These types of aesthetic issues can be addressed with traditional eyelid surgery. Traditional blepharoplasty procedures remove excess skin, fat, and tissue in the upper and lower eyelids.
Most procedures start with an incision along the natural eyelid crease to conceal any possible scarring. Fatty deposits may be removed or relocated, and underlying tissue is tightened. 
The goal of the procedure is to make the patient look younger and more awake.
Why Do Different Procedures Exist for Asians?
Individuals of Caucasian descent and many other ethnicities have a crease on the upper eyelids that folds when their eyes are open. 
However, approximately 50 percent of people of Asian descent don't have that upper eyelid crease, and some people feel that the lack of that makes their eyes look small or tired.
This is the purpose of Asian eyelid surgery.
What Is Asian Eyelid Surgery?
Double eyelid surgery, also known as Asian blepharoplasty, creates a crease in the eyelid to make almond-shaped eyes larger, more symmetrical, and potentially more expressive. 
Sometimes surgeons create very small incisions in the upper eyelid and use a tiny stitch to attach eyelid skin to underlying muscles that open and close the eyelids.
Another technique creates an incision to remove excess skin and sculpt underlying fat into a certain shape. This also creates a defined crease in the upper eyelids with a soft and natural appearance. All types of eyelid surgery are appropriate for men and women.
Is Asian Eyelid Surgery Appropriate for Everyone of Asian Descent?
Facial characteristics vary significantly among those of Asian descent, as Asia covers such a vast geographical area. People of northeastern descent, often individuals from China, Mongolia, Taiwan, Japan, or Korea, generally have a smaller eyelid height (usually between three to six millimeters). In contrast, those of southeastern descent, such as those from Thailand, Vietnam, Myanmar, or Indonesia, have a taller eyelid height (usually seven to 10 millimeters). 
Because of this, surgical techniques will be different among Asian patients (as they would be with any other ethnicity) and tailored to the patient. 
When you choose Dr. Chiu, you can feel assured that he will sculpt your surgery around your needs and facial features. 
Curious About Your Results? Check Out Our Photo Gallery
To see how eyelid surgery has benefited our previous patients, visit our blepharoplasty before and after photo gallery.
Interested in Eyelid Surgery? Contact Dr. Chiu Today!
You can learn more about Asian eyelid surgery by contacting Beverly Hills Plastic Surgery at 310-888-8087 or use the online form to schedule a consultation.