Why is Skin Moisturizing So Important?
March 12th, 2018 | Posted in: Beauty Tips, Skincare | Tags: damaged, dry, health, healthy, medispa, moisturize, moisturizing, regeneration, skin, Skin Care, skin health, spa, treatment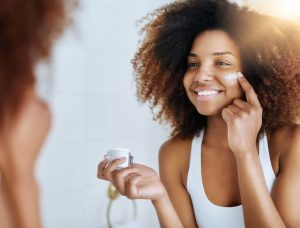 The basic skincare routine involves three steps: cleanse, tone, and moisturize. But some people stop at step 1 and call it a day.
While you can skip toning as part of your routine (only okay if your cleanser is pH balanced), moisturizing is non-negotiable, especially if you have dry skin.
For more skincare tips and to learn about the variety of cosmetic skin treatments available to you, contact the top cosmetic surgeon in Los Angeles, Dr. Chiu at Beverly Hills Plastic Surgery.
What Moisturizers Do
When you wash your skin, you do not only wash off dirt and makeup, but also strip off the skin's beneficial oil. This makes the skin feel tight and dry.
Why is it so Important to Moisturize?
Aside from restoring moisture, moisturizers also provide a protective layer in the skin against bacteria and contaminants, which cause pimples. It also helps slow down skin aging.
Dry skin tends to be more prone to wrinkles and sagging because it's susceptible to chronic inflammation. This breaks down collagen, which gives the skin its elasticity and strength.
To restore moisture, you need to use a moisturizer that will absorb water from the air (humectant) and smoothen rough skin (emollient).
Most moisturizers have both humectant and emollient properties. But if you're not sure, look for water-trapping ingredients such as glycerin or hyaluronic acid and smoothing elements like Shea and cocoa butters.
Oily Skin is Dehydrated Skin
People with oily skin tend to have a love-hate relationship with sebum. It's beneficial to the skin's health, yet it's so annoying when there's too much of it.
But did you know that too much sebum is actually a sign that the skin is dehydrated? It sounds counterintuitive, but the skin overcompensates for dehydration by producing more oils. When the skin produces more oil, it's a lot likely that you'll also develop acne.
This is why you need to moisturize even though you have oily skin. But not all moisturizers are created the same, so choose one that is a good match for your skin type.
Moisturizing for your Skin Type
The moisturizer you should use depends on two factors: your skin type and the weather. But more so on the latter:
Normal skin
If you fall under this category, you have a pretty much balanced skin (not too oily, not too dry). While you can use any type of moisturizer, it's important to keep in mind the climate you're in. Lotions and gels provide moisture without making the skin greasy. For cooler days, you can use oils and creams to add more hydration.
Combination skin
Combination skin is characterized by an oily T-zone (forehead, nose, and chin) and dry skin on the cheeks. It's a little tricky to work with, given that you have practically two-skin types. But you don't have to use separate moisturizers to address your skin concerns. Most sheer moisturizers hydrate the skin well without adding oil to the T-zone.
Dry skin
Flaking is a common problem of dry skin. Look for moisturizers that are on the heavier side. Watch out for those that contain alcohol as they can dry the skin even more. Creams and oil work best because the thicker consistency provides more hydration and prevents moisture loss. You may find that you need to apply more than once when the weather is cold.
Oily skin
Oily skin are usually acne-prone, so you need a moisturizer than can tackle both skin concerns. Look for ones that are water-based and oil-free. Gel moisturizers are best since they're lightweight but hydrating. Avoid heavier formulas like creams as these can make the skin look greasier. To combat acne, look for moisturizers that have salicylic acid.
Sensitive skin
Sensitive skin calls for more TLC. Your moisturizer should be free from harsh ingredients that can cause redness and irritation. Paraben, dye and fragrance-free formula are great because there are less irritating ingredients in them. When buying a moisturizer for your sensitive skin, do a patch test on your jaw to see if the product causes irritation.
Taking care of your skin doesn't have to be complicated. Finding the right moisturizer for your skin type is a good start to building a routine that your skin will thank you for.
Top Cosmetic Surgeon in Los Angeles
Let your skin glow even more with Beverly Hills Plastic Surgery's Medispa treatments. Performed only by certified medical aestheticians, these treatments hydrate and refine the skin for that youthful glow.